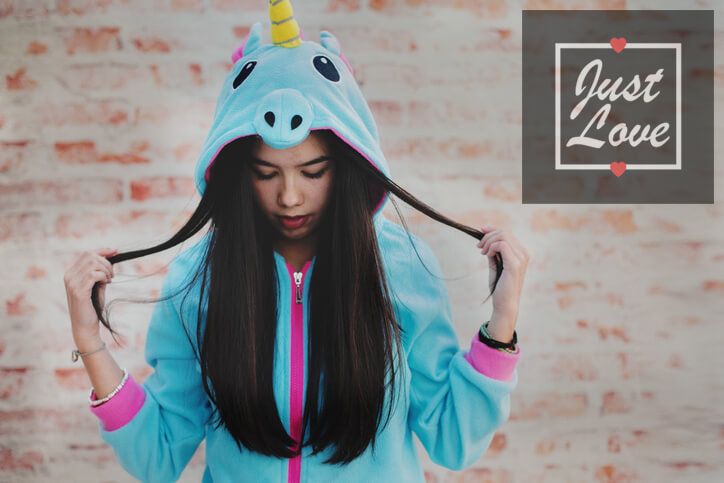 Not Just PJs For Home Anymore
Fashion has a long history of changing in bursts. One day a style is entirely inappropriate, and the next day it's the hottest trend around. In the 1920s, women were not allowed to wear pants in public. In the 1980s, punkers were laughed at for wearing Doc Martins. Not so long ago, tattoos were only seen on grizzled, old Navy men and ex-inmates. Time and time again, we see fashion choices that are strange, uncomfortable, or even outrageous become commonplace.
Onesies are the newest item to add to this tradition of shocking fashion choices. While some people think that wearing a onesie in public is strange, immature, or even disrespectful, it's become one of the most progressive trends in men's and women's pajamas and loungewear. Onesies for kids have been around for decades, and the adult onesie isn't all that different.
Both adult and kid versions are one-piece garments that you slip into effortlessly, usually with a long zipper in the front. Adult onesies cover all the arms and legs. Both adult and kid versions come in a variety of playful designs, often with a nod to dressing up as an animal or other hero figures like astronauts or soldiers. Many versions of onesies are hooded, and the most creative versions of these hoods include animal features. And both the adult and the kid versions of onesies are so comfortable that within the span of just a few years, they've become a favorite loungewear choice for the night, day, indoors, outdoors, and everything in between.
Sleepwear has been creeping into the public arena for decades. In the 1960s, it was common for women to run a quick errands in curlers and robes. In the 1980s, families started going through drive-throughs in their pajamas. Over the past twenty years, more and more people have using bedroom slippers on errands and while shopping. Pajama pants with drawstrings were sighted in gas stations, then grocery stores, then superstores. And while America has begrudgingly become more accustomed to seeing people out in pajama bottoms or pajama pants, wearing adult onesies in public takes public loungewear to another level.
"Onesies are a way of telling people you're different," says Margaret, a 20-year college sophomore. "When you see some on campus in a raccoon or a crocodile onesie, it's like they're telling people they don't take themselves too seriously. It's like they're saying this is what I was wearing before I got here, and I didn't feel like changing. It's kind of defiant. So, yeah. It's kind of cool."
Her friend Richard, also a college sophomore, agrees. "I don't do the character thing, but some of my friends do. When they show up in a character onesie, it's like they're telling me 'Dude, take me as I am!' And that confidence and good mood rubs off." Richard reports that he owns two onesies – one in solid grey and one in a camo pattern. "I usually wear them around the dorm, but I've been known to visit friends in them. It's always a good idea to get at least a few people at your party to wear their onesie to keep things loose."
Taylor, a paralegal in Manhattan, is seeing more onesies at the small gatherings she attends with friends. "We used to dress up when we got together." She notes, "We'd stand around in heels and sit on the edge of chairs. Now it's cooler, and WAY more comfortable, to be yourself. Being yourself is less stress and more fun. People get to know each other quicker when we're not all dressed up."
Who Wears Onesies?
If you haven't yet spotted onesies in your part of the world, you may be wondering where all these onesie wearers are. Like most fashion trends, the onesie trend started showing up in a big way in major fashion centers like New York, Los Angeles, and Miami. Onesies also gained steam in big college towns like Austin, Madison, Ann Abor, Columbus, and Berkley. Internationally, onesies are showing up in city after city, including London, Belfast, Berlin, Toyoko, Singapore, and in many major Indian cities.
While the onesie wave has hit city after city, and country after country, it's still not in full force everywhere in the United States. How do you know if the onesie trend has really started in your part of the world? If you keep your eyes open, you might start seeing signs of the arrival of the onesie. The early adopters of the onesie revolution are usually elusive. There may be sightings of them at night pumping gas, hunched down in drive-thrus, or quickly grabbing milk at the local convenience store. But once the trend starts to catch on, onesie advocates gain courage and become more visible. Once the trend escalates in your area, the onesie wearers will begin showing up in groups. They'll become more vocal. At this stage, you'll begin seeing people in zipped-up onesies walking around campuses, moving their way through the grocery store, and taking up big corner booths in restaurants. You'll may start running into happy groups of onesie fans celebrating in bars and clubs across the county. Friends in onesies have been spotting shopping at malls. But if you really want to see the onesie phenomenon at its best, get yourself to a diner or restaurant on a Saturday or Sunday morning, and you'll see onesies en masse as herds of twenty-somethings prove that onesies are the preferred uniform of dedicated brunchers.
It's also important to remember that older people are not likely to be the ones wearing onesies. After all, older Americans have never been quick to adopt new trends. You won't see your grandpa in a onesie at the hardware store, and you may not convince your aunt to stay in her onesie to pick up her kids at school. Your mom will continue to think you're crazy for wearing your onesie when you come home for the weekend. But onesies are wildly popular among twenty-somethings and teenagers. And that means that this trend will be one that sticks around for quite a while.
Famous Onesies
Not sure yet if you should be wearing an adult onesie? Then take a look at celebrities adoption of this comfy fashion choice. As early as 2011, young hipsters started showing up on Snap Chat and Instagram in onesies. Paparazzi around the world began snapping shots of singers, pop stars, dancers, athletes, and actors in all kinds of place wearing whimsical onesies. In an early sighting, the wildly popular boy band, One Direction, made a big media splash by wearing colorful onesies to a series of events (Onesie Direction?) And uber-trendy Justin Bieber has been captured wearing bright onesies for many red-carpet events. In fact, there's a long list of celebrities that have been caught on camera in onesies, including Miley Cyrus, Khloe Kardashian, Brad Pitt, Liam Hemsworth, Beyonce, Selena Gomez, Demi Lovato, Jared Leto, Ariana Grande, Katy Perry, Ed Westwick, Tom Fletcher, and Austin Mahone. While some of these celebrities stick with solid colors, many have thrown caution to the wind and embraced playful animal-themed onesies.
And while celebrity sightings are certainly a sign that a trend is gaining steam, there's no place like Instagram for taking the pulse of any social phenomenon. After all, Instagram is one of the most popular places to look for social validation (and new wardrobe ideas.) Once you get on Instagram, enter #Onesie and start scrolling through the millions (yes millions) of photos and videos of the famous and not-so-famous sharing their love of onesies in all sort of places, across the country, and even across the globe. So, whether you live in Lexington or London, Baton Rouge or Belfast, Oakland or Osaka, New Jersey or New Delhi, you're going to see more and more onesies. This is a trend that has gone global.
"How Dare You Wear a Onesie?"
Although onesies are cute, cuddly, snuggly, and entirely apolitical, when you wear a onesie, some people are going to be haters. It's human nature. Certain groups are going to be shocked, even threatened, by your choice to wear a onesie. It's hard to believe, but in a world with pierced eyelids, bra tops, neck tattoos, and human dog collars, comfy onesies are now considered dangerously counterculture, and are part of the new "cutting edge." This new fashion trend isn't about looking sexy, hot, rich, or angry, and that mindset is one that is actually new and intimidating. Wearing a onesie is not about transforming yourself, it's about accepting the part of you that wants to fun, innocent, comfortable, and friendly.
It's counter-intuitive, but embracing comfort is considered a form of rebellion. So even though you're wearing a onesie as a way to be friendlier and more laid-back, when you wear your onesie in public, you may run into people who are confused, bemused, irritated, or even outraged. Don't worry. These are the kind of people who don't understand that onesies are a way to celebrate comfort in a new way. These folks are actually irritated that you didn't want to change into other clothes to make THEM feel more comfortable.
Whatever.
There's also been a lot of press about the onesie phenomenon. And it's been mostly negative. That's not surprising. Whenever fashion trends bubble up from real people, instead of being invented by designers, there's usually a lot of backlash in the press, and onesies are no different. Fashion editors, designers and fashion pundits of all kinds consider the trend silly. They claim that wearing onesies is a way of "giving up" (but they don't tell us what, exactly is being given up.) Some things never change. The fashion press always dismisses trends that prove that regular people like comfortable, affordable clothes. Again and again, regular Americans choose practical, easy-to-wear clothes over high fashion that pulls and pinches and costs a fortune. And designers don't like it.
And let's face it, the fact that fashion designers and baby boomers don't "get it" is part of the appeal of the adult onesie. Breaking new ground in fashion has always been a big part of being a teen or a twenty-something. It's your JOB as a young person in America to move fashion to the next level. After all, previous generations have made a statement by taking apparel meant for other purposes and using it in new ways. Did you know that Doc Martins were once utilitarian work boots in Britain, favored by fuddy-duddy mailmen? And then rockers in the 1980s started wearing them with leather pants and short shirts, and Doc Martins became part of the uniform of the counterculture. Uggs were designed to be house slippers, 'til actresses and supermodels started wearing them in public. Even the now-ubiquitous flannel shirt was a standby of the working-class in the 1940s and 1950s until hippies in the 1970s decided to adopt flannel as the uniform of young rebels. Time and time again, the next generation finds comfortable, practical clothing from the past and reinvents it to be used in new ways. So when onesies started showing up in public around 2011, the same cranks that complained about Uggs and flannel shirts started in with the same objections. "It's disrespectful." "It's stupid" "They're just trying to get attention." If history has taught us anything (and we're not totally sure that it has,) it has taught us that when the next generation ushers in a new trend, even one as harmless as the onesie, the old guard generally responds with a loud chorus of "how dare they?"
When Should You Wear a Onesie in Public? #YOLO
The leap from indoor to outdoor can be a scary one. We get it. You may have been wearing your onesie at home for quite a while but never ventured out into public in it. You're not alone. Of course, everyone wants a onesie to wear at home. Why wouldn't they? There's no real downside to slipping into warm, loose-fitting jammies. Onesies are easy to love because they are loose-fitting, easy to put one, easy to wear, easy to care for, affordable, and as cozy as it gets. Even better, onesies are flattering for almost everyone. Whether your tall or short, thin or chunky, onesies look pretty good on everyone. So it's really no wonder that Onesies are taking over the pajama and loungewear universe, and there's no slowdown in sight.
So, we get that when you get a onesie of your very own, it's pretty easy to spend every minute of your precious time at home wrapped in its comfort, not hemmed by old-school waistbands or bothersome buttons. While It's the most natural thing in the world to wear a onesie at home, it definitely takes a little leap of courage to start wearing your onesie in public. But eventually, you'll be tempted to start wearing it outside your house. And the first question you'll ask yourself is, "When should you wear a onesie in public?"
College sophomore Margaret weighs in. "The first time I wore my onesie out, it was kind of a mistake. I mean, I didn't plan it. I followed friends out to their car, and then I hopped in to go with them to the store. The next thing I knew, we were getting chips and dip, and I was in a onesie."
Paralegal Taylor had a similar experience. "One minute we were watching a movie at my apartment, and then we jumped into an Uber, and we were on our way downtown in Onesies. We just wanted to get burritos, so it didn't seem like a big deal."
Whether you plan your first big outing in a onesie, or it happens accidentally, when you want to make your next adventure a little extra, try wearing a onesie outside your home. But how do you what's okay, and what's just weird? Can you get away with wearing a onesie in public if you don't leave your car? Is it alright to pick up a pizza in a onesie? Can you wear one while getting some work done at the local Starbucks? When attending your cousin's wedding? We're the first one to say rules are made to be broken, but to get the most out of your adult onesie outside the safety of your own home without too much blow-back, here are some helpful hints. Take 'em or leave 'em: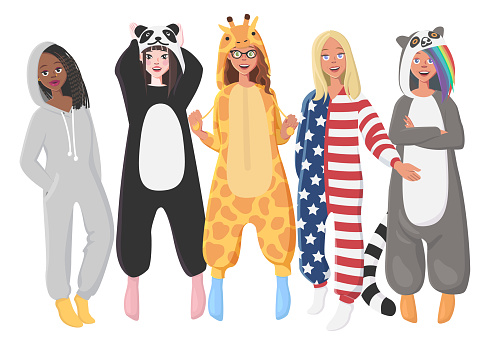 Hint: Don't go it Alone

Onesies really are eye-catching, and you're sure to get a lot of attention when you start wearing it in public. While attention usually is a good thing, if you get too adventurous with your onesie, that attention can feel intimidating. Remember that you are breaking social norms. So, while you may feel totally okay venturing solo into the world in a onesie, a single person in an animal-themed onesie quietly browsing through greeting cards could set off creep alarms. Until onesies become a little more common in all kinds of situations, try saving your onesie wear for group outings. When you're with good friends, regardless of what they're wearing, you'll feel safer, and you'll have more fun. Whether you've decided to wear onesies to a friend's movie night or keep it on while you and some pals make a quick grocery run, being surrounded by fun-loving pals makes onesie-wearing feel more like a comfort statement and less like a psychotic break. That's a win-win for everyone.



Hint: Wearing Your Onesie is a Signal You're Going to be Funsie

When you wear a onesie out, you're making a statement. You're telling people you're cool and relaxed, and that the regular rules don't apply to you. And for many people, that equals fun. If you want to brood, be left alone, feel cranky, or are indeed a total introvert at heart, you may want to wear something other than an adult onesie. Yes, onesies are an awesome apparel choice when you're going to movie night, to a friend's party, ice skating, skiing, on an ice cream run, or to your next weekend meetup at Waffle House. But wearing a onesie will attract people to you, and it signals that you are whimsical, cool, and ready for anything. That means when you're wearing a onesie, the people around you will expect you to be fun, friendly, and sociable. Remember that onesie = funsie. If you're feeling quiet, shy, want to blend into the background, or really want to be left alone, leave the onesie at home and opt for a more conventional clothing choice.



Hint: Wear a Onesie if You Need to Stay Comfortable for Hours and Hours

Onesies are super comfortable. It's their best feature! In fact, a big, loose onesie is one of the most comfortable things you'll ever wear. So, it's no wonder that more and more people are choosing onesies to stay comfortable in more places for more extended periods of time. That's why onesies have become uber popular for marathon car trips, long study sessions, shopathons, and have even been spotted on transatlantic flights. While onesies will keep you comfy for hours, there is a side effect: onesies are so inviting that they may make you too relaxed. So, while you'll stay comfortable for hours in your study group, you may also find your eyelids get heavy, or you may even nap. If you're the one driving during your marathon driving tip, you may find that your onesie is just too snuggly warm for late-night driving sessions. And while there isn't much documentation in this area, it's suspected that if the police pull you over while wearing driving in a onesie, they may not fully appreciate your whimsical dedication to total comfort.



Hint: Onesies Change the Paradigm

We all get into ruts. Sometimes we find we're doing the same things over and over, with the same people, in the same places, with the same results. We all let our lives get predictable. And while predictable can be nice, it can also become boring. While you might not be ready to reinvent your life, you can bring a little unexpected joy into a standard situation by wearing a onesie. Do you and your friends like to head to the cineplex for movie night in those great reclining seats? Why not make movie night a onesie night? Are you dreading another Sunday dinner at your sister's house? Show up in a onesie. Did you promise to babysit for your neighbor's kids? Make it a pajama party. Dreading brunch with your annoying cousin and her perfect boyfriend? Show up in a onesie! When you find ways to bring an unexpected twist to your same old routine, you reframe the situation in ways that are certain to shake things up.



Hint: Onesies Make it a Party

When you show up to your friend's house in jeans and a t-shirt, no one expects much from you. But when you show up in a onesie, it becomes a theme night. The same goes for poker night, movie night, cigar night, picnics, camping, Monday night football, Halo night, and weekend brunches. If you find that you and your friends are getting a little predictable, throw on your onesie and see if your change in attitude helps them find the joy in their lives. Better yet, reinvent get-togethers as pajama parties. Everyone feels more relaxed in pajamas, and onesies are the most comfortable pajamas of all.



Hint: Whimsical Onesies are Not Good for Serious Situations

Onesies are the best for fun outings and hanging out with friends, and that means wearing a onesie is a serious misstep in some situations. Just in case you're not sure where to draw the line, don't wear onesies to job interviews. Wearing a onesie on a first date is risky. Don't wear onesies to weddings, funerals, baptisms, christenings, or Bar or Bat Mitzvahs. Don't wear onesies to Quinceañeras. Don't wear onesies to church, mass, temples, synagogues, mosques, or shrines of any kind. Onesies are a lousy choice for memorials and cemeteries. You get the idea.



Choosing Your Indoor-Outdoor Onesie
When you're shopping for a onesie that you plan to wear outside, there are a couple of guidelines to remember. Of course, you want to find onesies that are comfortably warm and snuggly. But if you're going to wear your onesie outside your home, be sure to take extra time to look for onesies made with soft fabrics that will keep you well-insulated indoors and out. And because you're going to do more than sleep in our onesie, make sure your onesie is well-made. Your onesie should be constructed with strong seams, preferably lock stitched, so they don't tear or fall apart when you're out and about.
If you're choosing a onesie to wear in public, look for a loose fit. Ryan, a 24-year-old IT professional, advises onesie shoppers to "Go big or go home. Make sure that your onesie is big and loose." He adds that tight fits "look weird. The whole idea behind onesies is to leave tight-fitting clothes behind. Why bother with a clingy onesie? Your onesie should be roomy."
Ryan's girlfriend, Shannon, is also a 24-year programmer. She reports that "trying to mix sexy and tight with onesies is just wrong. Onesies are fun and innocent. If you want a form-fitting look, try something different. Onesies are not for you."
We agree. The onesie trend demands that you find a fit that is extra roomy. So be sure to look for onesies with a roomy cut or that promote themselves as "loose-fitting." When in doubt, order a size larger. In the world of onesies, bigger is better. You'll also want to choose a onesie that is a little shapeless. Steer clear of fitted onesies or onesies that cling to any part of your body. While oversized onesies are cute and charming, tight-fitting choices tend to cling to the wrong places and reveal unflattering bulges or bumps.
Finally, because you're planning to wear this onesie out in public, you'll want to find an option that can stand up to a little wear and tear. Look for one that doesn't stain easily, and that is easy to clean. Make sure your onesie is machine washable, color-fast, and won't shrink in the dryer.
What to Wear Under Your Onesie
If you live in a super warm climate, you can skip this part of the article. The lucky ducks who want to beat the heat in Phoenix, Honolulu, or Miami or San Juan have never had to worry about staying warm in onesies. If you're a warm-weather onesie wearer, you can throw on a low-profile pair of underwear (or whatever you're into), and you're good to go. Stick to underwear in the same tone as your onesie, so it doesn't show through. For example, if your onesie is a light color, avoid black or brightly colored underwear.
For the folks in the chilly climes in places like Syracuse, St. Paul, or Salt Lake City, warmth is going to be a real concern. While hanging out at home doesn't require a lot of undergarments, for people who are planning to go out in chilly weather, you should consider wearing something warm under your onesie. Be sure to choose something that covers your arms and legs, such as a long-sleeved t-shirt or leggings. Make sure the garments you choose to wear under your onesie are super close fitting, so they don't bulk up your onesie. And it's a good idea to avoid buttons or zippers since they'll also make your onesie look bumpy. Thermal underwear is a good choice. It's warm, close-fitting, and shouldn't be visible under your onesie. If you have stretchy leggings, jogging pants or compression shirts, they're also an excellent first layer to wear under onesies.
What About Jackets?
No matter which climate you live in if it's chilly enough to throw on a jacket when you wear other clothes, it cold enough to wear a coat with a onesie. Don't worry; a jacket won't ruin your carefree look. In fact, bulky outerwear over a fun onesie is right in line with the "I don't care what anyone thinks" vibe that we love.
You'll also need to throw on a pair of socks and shoes. They don't need to match your onesie. In fact, taking care to match you onesie detracts from the cool factor. Remember that wearing a onesie is about putting your comfort first and not caring what other people think. It's not about wearing a costume. Matching shoes or other costume-like accessories will tip you over into the costume camp and may kill your rebel vibe.
NOTED EXCEPTION: If you are wearing a onesie for cosplay or kigurumi, disregard all remarks about staying away from costumes. Dress it up and have fun!
Wearing a Onesie to School: Making the Grade
While schools are enacting stricter rules on what students can and can't wear, onesies sidestep all the big issues – no short hems, see-through fabrics, peekaboo necklines or stray straps. But while onesies may not be revealing, they have provided a rather devious way to rebel.
So, it's makes sense that one of the most popular places to wear a onesie is the classroom. And that shouldn't surprise anyone. American students have been pushing the fashion boundaries for a century. Previous generations of students made a statement by wear "dungarees" (blue jeans), then shorts, then sneakers, then sweats, then yoga pants to the classroom. And now today's student knows wearing a onesie is a great way to rebel without breaking any dress codes.
What you wear has always been a signal of who you are. And you when your clothes break social norms, YOU break the social norms. Wearing something different means, you're breaking unwritten rules, and that always upsets someone. That's why, no matter if students chose to rebel with dungarees or yoga pants, generation after generation of teachers have pushed back against personal expression, and fashion freedom. This kind of not-technically-breaking-the-rules is sometimes tolerated in school, and sometimes it gets shut down.
While middle schools and high school students may get hit with new dress code forbidding the latest fashions, college students have always had a bit of a pass when it comes to social norms. After all, the universities and colleges in America have always been ground zero for social and cultural change. That's why so many social movements, including civil rights, women's rights, and gay rights really gained steam when they were embraced by college students.
Colleges and universities are proud of their roles in fostering and accepting social change. They try hard to be Woke on almost every front. That means that if you want to wear a onesie in public, a college campus is probably one of the most accepting environments you can find. But will you be able to saunter into class without comment? That depends on your college, your major, and your instructor.
Colleges and fields of study have varying tolerance for change and divergence. If you're a cadet at West Point, it's unlikely that onesies are welcome. At the other end of the spectrum, women's studies majors at Berkeley will probably get applauded.
Of course, no matter where you go to school, if you choose to use a onesie as a social statement about the role of comfort and the ever-blurring lines between private and public life, be prepared for some extra scrutiny. Remember that once you start calling attention to yourself, you have now, um, called attention to yourself. You're no longer invisible. While that may be great on some levels, there is some definite blow-back. Now that your instructors know who you are, they will may also start noticing your absences, lateness, or occasional nod-offs in the back row.
Engineering majors will probably have to fight a little harder for respect in a onesie. Art majors probably won't have a lot of issues. You be the judge. If comfort and social progress are essential to you, wear your onesie! If you'd prefer some anonymity, stick to the campus uniform of jeans and t-shirts.
Be You, Wherever You are
Whether you want to wear your onesie at home, at a friend's, or to the movies, you should do what feels right for you. Don't force yourself to wear things (or do things) that make you uncomfortable. At the end of the day, the most fashionable decision is to be true to yourself. You should determine what makes sense for you.
IT programmer Shannon notes, "Not all my friends wear onesies. It's kind of a personal choice. Some people have a lot of fun with them. Some people only want to wear them at home. Both choices are cool. Onesies are about being comfortable, so we don't want to make other people uncomfortable."
College student Richard agrees, "I used to think onesies on campus were weird. And then one day they weren't. I don't know when I changed or why, but now I wear onesies a lot – but I don't want to push my choices on anyone else. Live and let live, dude."
It's true that more and more people are comfortable wearing onesies and other types of loungewear in public. While you may love it or hate it, it's just the latest development in a long line of reimagined fashion choices. More and more often, this kind of attire is accepted in fast food restaurants, in grocery stores, at brunch, and when running errands. Sure, wearing a onesie, especially one with a whimsical theme, is still a ballsy choice to wear at bars, in restaurants, in class, at night, or at fancy parties, but people are doing it. And they seem to be having a lot of fun.
At the end of the day, wear your onesie to the places you think are appropriate. It's important to be true to who you are. If you feel good in your onesie, and you're confident in who you are, wear your onesie with pride. Be you, wherever you are.